Micropore particle technology (MPPT) is a white powder that can transport fluid by passive capillary-evaporation.
When placed on a wound or on skin, it will by micro-pumping transport moisture away from the skin and the wound surface. In parallel with this process, it removes bacterial and fungal toxins and enzymes, which inhibit immune cells, and simultaneously disrupts the structure of biofilm. The result is that it disrupts the weaponry of bacteria and fungi, whereby the immune cells regain their function and become able to control the wound or skin microbiome, thereby removing infection. MPPT is therefore an anti-infective passive immunotherapy that acts via the microbiome.
MPPT involves no antimicrobial components, it is effective against antimicrobial resistant strains and it will not contribute to the creation of new resistance.
Read publication in US medical journal on how MPPT exerts its effects.
Removes wound infections 60% quicker than antibiotics and antiseptics.
Effective on wide range of wound type, ulcers and burns.
Effective on dermatological conditions and lesions.
Effective in immuno-normal and immunocompromised individuals.
Non-toxic and has not been associated with any side-effects.
Removes antibiotic resistant wound infections.
Easy to use, also for patient and their families.
Use in sport for wound care allowed by World Anti-Doping Agency (WADA).
Only natural non-toxic ingredients. No effects on biodiversity or aquatic environment.
Savings of 70% in secondary care and over 80% in primary care.
Evidence
Amicapsil was compared to antibiotic and antiseptic. Amicapsil reduced time for removing infection and starting healing by 60% and number of hospitalisation days by 31% relative to these two major product groups. These effects were seen for general wounds, diabetic foot ulcers and venous leg ulcers.
10 patients with dehisced surgical wounds. All wounds proceeded towards healing after 3 to 5 days with Amicapsil and all closed. Standard of care would have been 1 week with UrgoClean plus 2 weeks with TNP (pump) to reach a similar stage where the wound could proceed towards healing – assuming no complications.
Prospective study of MPPT including 35 wounds and pressure ulcers. It found that, even on top of osteomyelitis, MPPT removes soft tissue infection and induces tissue regeneration in all wounds.  If treatment was initiated before the wound was 2 months old, the wound closed with no further complications. However, almost all wounds 6 months or older were associated with extensive abscess formation caused by K. pneumoniae or S. marcescens and these required time to remove. If osteomyelitis was present, stable exit-tracts would form to allow infectious debris to escape. MPPT is a cost-effective solution as most of the acute wounds only required 1-2 bottle of MPPT (or less). For comparison, Guest et al. (2018) found that the average cost of treating an infected pressure ulcer were £11,000 the first year only. And only 14% of these pressure ulcers closed within the first year.
Headquarters Army Medical Directorate, Camberley; and Academic Department of Military Rehabilitation, Defence Medical Rehabilitation Centre Stanford Hall, Loughborough, UK, report on the first case of treatment with Amicapsil at the DMRC Stanford Hall and review MPPT as a potential new paradigm for the treatment of wound healing.
University Hospital Birmingham, UK, evaluated MPPT in three patients with chronic inactive stable PG ulcers.
This in vivo study had the same outcome as the clinical study.
Amicapsil has been able to initiate the healing of several non-healing wounds and ulcers, which had not responded to a wide range of approaches.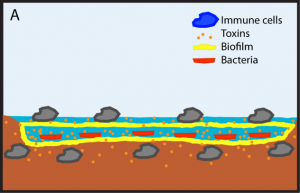 Bacteria and fungi secrete toxins and enzymes, which inhibit or kill the immune cells and hide within a layer of biofilm, which the immune cells cannot penetrate. By using this weaponry, they take over control of the wound.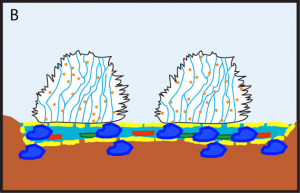 The MPPT-particles act as small micro-pumps on the wound surface. They absorb the wound exudate and in parallel they remove the toxins and enzymes secreted by the bacteria and fungi. MTTP also, by suction, creates holes in the biofilm layer. By these actions, MPPT disables the weaponry used by the bacteria and fungi. The result is that the immune cells regain their function and can enter the biofilm area. They can now selectively and unhindered remove any unwanted bacteria and fungi. By doing this, the infection is removed and healing can progress.